2015 BUICK REGAL vs. AUDI A4, ACURA TLX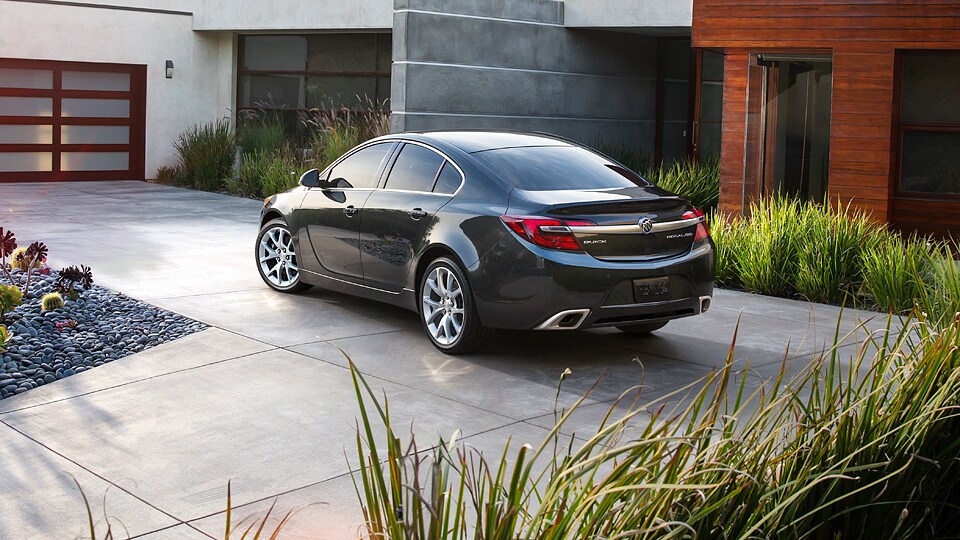 2015 BUICK REGAL PREMIUM I vs 2014/5 AUDI A4 PREMIUM
Regal advantages include:
More comfort -
Regal's cabin is more spacious and provides drivers and passengers with more room-especially in the rear seat. Regal also has another comfort win-standard heated front seats. They're a $500 option on the A4 Premium trim.
Premium appointments and luxury included -
Refinement and a wealth of standard amenities are two of Regal's most appealing qualities. The Regal Premium I equipment group adds even more luxury and includes Passive Entry with Push Button Start, an auto-dimming inside mirror and a dynamic driver information display that seamlessly allows drivers to interact with key audio, phone and navigation features using steering wheel controls-features not offered on the A4 Premium. Several other Regal Premium I features are not offered on any A4 trim-Remote Vehicle Start, a heated steering wheel and Ultrasonic Rear Parking Assist.
More standard connectivity and convenience -
The A4's standard Concert Radio doesn't include streaming audio, a USB port, embedded Pandora app access, Siri Eyes Free, Text Message Alerts capability and much more.
More intuitive interface -
The standard A4 system has instrument panel controls and layered screens that make it hard to find common features. Consumer Reports called the design "needlessly complicated, confusing and awkward." In contrast, CR reported Regal's touch screen is "logical and straightforward to use."
Standard Wi-Fi hotspot -
Regal's standard mobile Wi-Fi hotspot and 4G LTE connectivity offer a faster, more reliable connection than Audi Connect's 3G system. Plus, A4 buyers need to move up to a more expensive trim level and add an extensive option package to get the slower-running 3G connectivity.
More power and torque -
Regal's turbo engine outperforms the A4's, producing 39 more horsepower and an additional 37 lb.-ft. of torque.
Better transmission response -
The A4's standard continuously variable transmission is often flagged as a problem. AutoTrader reported, "We've found this transmission neither responsive nor particularly refined, and it seems to sap some of the engine's power." The Car Connection said it is the A4's "weakest link". Regal has earned praise for its turbo engine and 6-speed automatic transmission combo. The Car Connection said Regal's turbo is a "sweet-revving engine that generates strong acceleration," and that it's automatic transmission "clicks off shifts as well-damped as the Regal's ride."
Diagnostics support included -
OnStar Vehicle Diagnostics is included with every Regal. The A4 does not offer a comparable feature.
More comprehensive safety -
Regal has a standard Rear Vision Camera. On the A4, a rear camera is part of a $2900 package reserved for top A4 trims. OnStar is another Regal win with standard support services like Automatic Crash Notification and stolen vehicle assistance. Unfortunately, the A4 lacks the helpful emergency assist support services and reassurance provided by OnStar.
Better ownership coverage -
Compare the warranties and owner coverage: Regal offers more value and benefits to owners versus the A4. Regal has a longer powertrain warranty and longer coverage periods for No-Charge Scheduled Maintenance and roadside assistance. It also provides standard courtesy transportation that A4 does not provide. These helpful benefits make Regal an even better value and the smarter choice.
2015 BUICK REGAL PREMIUM I vs 2015 ACURA TLX 2.4L
Regal advantages include:
More standard premium amenities -
Regal is a better overall value with its impressive list of standard features-fog lamps, leather-appointed seating and a dynamic instrument cluster display with access to phone, navigation and audio features.
More luxury -
Small details can make a big difference and enhance the driving experience. Regal Premium I has Remote Vehicle Start, a front passenger seat with more adjustments, a heated steering wheel and Ultrasonic Rear Parking Assist. The TLX charges a premium for comparable features and does not offer a heated steering wheel.
More comfortable and accommodating -
The interior dimensions for Regal and the TLX are competitive-except the Acura's compact rear seat has nearly three fewer inches of leg room and a lot less cargo area than Regal.
More standard connectivity -
IntelliLink gives Regal standard connectivity that the TLX lacks. IntelliLink also provides standard Bluetooth streaming, voice recognition, the Gracenote Database and OnStar RemoteLink Key Fob Services.
Wi-Fi mobile hotspot -
OnStar with 4G LTE is standard on Regal and creates an in-vehicle mobile Wi-Fi hotspot. The TLX does not offer Wi-Fi connectivity.
Easier to use, less distracting interface -
The TLX uses two stacked screens to key operate audio, phone, climate and navigation features. One is a touch screen, and the other operates by faceplate rotary dial. Car and Driver called these stacked displays "bizarre," saying "?the displays don't quite match; one screen would do the job just fine." Edmunds also found fault, calling the system a "distracting interface." Regal's IntelliLink system uses a single touch screen with icons that make it intuitive and convenient.
More horsepower, torque, better performance -
Regal's standard 2.0L turbo engine easily outperforms the much less capable 4-cylinder engine that's standard on the TLX. Edmunds called the TLX 4-cylinder engine's performance, "lackluster." Drivers will especially notice the differences between both vehicles during acceleration. Regal provides about 38% more torque and provides that torque sooner at lower rpm.
Better handling -
The early reviews of the new TLX highlight some concerning handling issues. Consumer Reports said that the TLX's handling is "nothing to write home about." CR also reported that the TLX doesn't match Regal in handling agility. In its TLX review, Edmunds called the brake pedal "spongy" and said that "braking power did not impress us."
Safety before, during and after -
Both vehicles offer advanced safety features on uplevel trims-but what about standard safety? Regal has the advantage with OnStar Automatic Crash Notification, emergency and stolen vehicle services that are included on every Regal. It's a different story on the TLX. The AcuraLink system has a few similar features, but it's an add-on and requires a $4000 package and navigation. Even with the upgrades, AcuraLink can't match the depth of OnStar's comprehensive safety.
More comprehensive owner coverage -
Regal owners have important added benefits that Acura TLX owners don't with 2 years of No-Charge Scheduled Maintenance, longer roadside assistance coverage and courtesy transportation. These features contribute to a better overall ownership experience and help make Regal a far better value than the new Acura TLX.